Culture, Relax and comfort in the heart of Apulia..
In Italy's deep south, Puglia resort provides the ideal conditions for a unique experience. You have just to walk through a wild landscape to see Borgo San Marco's imposing watchtower. Welcome to Borgo San Marco, an inviting and elegant charming hotel placed in the huge millenary olive trees grove around Fasano and Ostuni, only two km far from the Adriatic sea and very close to the Valle d'Itria and the Salento coast. The thirteen thousands olive trees, one of the symbols of Puglia, all around the resort, are its silent sentinels, while the carobs trees are its century-old natural sculptures. The defensive tower of this ancient fortalice (that was a monastic settlement in the twelfth century, a Knights of Malta's garrison in the fifteenth century and only from the eighteenth century a farm) has been facing to the north-westerly wind since many centuries ago. Masseria Borgo San Marco is a place that cannot be easily described: it was chosen by many personalities and celebrities as their local residence, by many writers and movie directors as their ideal set, by many others as an unforgettable place to live in (as the guests book proves). Borgo San Marco is one of the most charming resort in Puglia and the Amati's family has chosen it for a never ending lifetime long break.
Borgo San Marco,
not just a simple stay
Dear Foreigner, Apulia is just a journey !
A journey which works seriously like magic, because very few are the lands where beauty walks in procession as in the Saints and Lady's days.
Where the "Masserie" are young girls total white dressed up, singing their love for the sun. The old cities center are icing sugar flock full of baroque. Here the colors are the ingredients to be kneaded like bread and the light is the yeast that grows up, shines and desires everything. Here the old century olive trees have challenged against time, source of inspiration for Kings and Popes.
Here the darkness has been fought with the thousands and bright frescoes within the amazing rupestrian Middle Ages.
Apulia region, dear Foreigner, has the magic of the stone, the wind, the sea, the salt in the air. Those are the unseen roads to be found, to be smelled, just because the magic, the surprise and the wonder-following the paths- will be shaped like matter for your eyes and poetry for the rest of your senses. And the poetry, dear Foreigner, is something stunningly beautiful…
Suites
Custom style, Highest Comfort.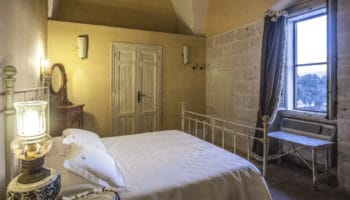 Really spacious and comfortable, (up to 70 square meters), they are in the main tower of Masseria, combining tradition and elegance. Fitted with all commodities, among which a bath tub, they both have a terrace from which you can enjoy an amazing view on the surrounding countryside and the Adriatic Sea, even getting a glimpse to the well-known city of Ostuni.